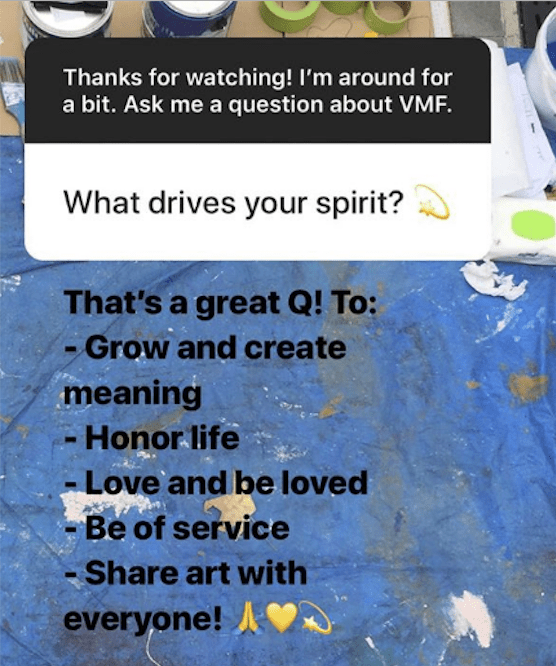 When I test drove the new'ish Q&A feature on Instagram, I was a little surprised with the big question I received when asking if anyone had an inquiry about Vancouver Mural Festival.
"What drives your spirit?"
This question came from someone who I believed would deeply appreciate a thoughtful answer. And if she would value these ponderings, then perhaps others would as well.
So, I dove into my journal and began to write (with pen and paper, of course). My thoughts below are just a glimpse into what drives my spirit. There is really so much more yet these are a few fundamentals I'm happy to share. The numbered points are randomly ordered. Here is an expanded version of my Instagram answer:
What drives my spirit?

To:
Grow and Create Meaning
"What drives my spirit" is a timely question as my word-of-the-year is VOICE. My intention is to deepen, expand and enrich my art practice and life. By seeking out what I want to say, how I want to say it and to whom…I will grow. By following my heart, asking tough questions and taking action, when needed, I will expand. Conversely, patience may be my lesson. And there are always more lessons! Every life has smooth and bumpy patches—and not always in equal proportion. Whatever the lessons, I believe we are on this planet to learn the most we can from every experience. If we are to make sense of things we must create meaning so we can grow and heal, and ultimately lead a life with purpose and passion. Read Viktor Frankl's Man's Search for Meaning to dive into this subject.
Honor Life
We only get one life (at least this time around). As a cancer survivor, I feel blessed to have a second chance to make this life my best life possible. Every moment of every day is a gift and I strive to make all my decisions from a place of love, not fear. I aim to appreciate everything—to honor all my experiences—equally, and to value life at every stage and age. My life is perfectly imperfect and I love it! #gratitude
Love and Be Loved
Wow! We are getting to the good stuff here, right?! Everything comes down to love. If it's not love, it's not real. And only love is real! I subscribe to the lessons I've learned in part through A Course in Miracles and Marianne Williamson's A Return to Love (a more accessible version) that both inspired Gabrielle Bernstein. We are here to learn how to love and be loved. Sometimes this can be messy or painful. I'm still learning and I'm sure there are more juicy lessons for me to come. Most importantly, I'm grateful for my deep love and appreciation for all; myself, those who I am closest with, those who I don't know—and even those who have wronged me for they are my greatest teachers. To allow love is a submissive yet equally powerful and graceful. By welcoming love we expand our presence in the weave of life. It starts with self-love. Then, it's about being okay with being vulnerable. Perhaps it's asking for help or accepting compassion or appreciation from people who accept you as you are. We are all better together when giving and welcoming love.
Be of Service
We each share our gifts in unique ways. Be that a small act of love (a smile or a selfless gesture that benefits a stranger). Or, maybe a self-nurturing act, for if we are not well, we cannot serve. Alternatively, it may be a commitment to raise your children well or improve the world with your gifts. It's our job in life to figure out how we can best share our skills. Through a heart-centred connection we can ask the big questions that arise from our experiences—how do we serve ourselves, families, our communities, our countries and beyond. We all have value, even if we can't do anything—at all. There may be times we can only care for ourselves and need the help of others, or need a break from caring so much for others. It is even of service to let someone love you. Think about how another's joy may be lost when their help is rejected. To me, being of service means aiming to do the right thing and doing all that I can do at any given moment, whatever that may be.
Share Art with Everyone
There are as many kinds of art as reasons to create. As I continue to develop my art practice, I'm inspired by fierce artists who have developed a strong, unique voice. One way artists share art with everyone is through public art such as murals (different than graffiti because it's legal). I was thrilled to accept an invitation to work on the THRIVE mural recently. THRIVE is a womens' art collective based in Vancouver, Canada. Helping create the mural pushed me to grow in many ways and I'll share my thoughts on that in another post. Being part of the Vancouver Mural Festival has been incredible! I was definitely in my element. By creating original paintings, limited edition prints and murals I am creating art for everyone! And for those who know me well, you know my creations can also be found in my fruit and vegetable garden and at the kitchen table. May my creativity serve you well now and always. xo