The launch of my concert series began on Saturday, January 7th. This series is an ongoing part of First Saturday, held in my art studio at Eastside Atelier located at 10B – 1310 William Street. Tamami Maitland played at Eastside Atelier's Pre-Crawl Preview event in November 2022. The feedback was outstanding! So, I invited her back to be my first performer. First Saturday is an open-studio, art crawl that takes place at over 100 art studios across the Lower Mainland on the first Saturday of every month. I'm on the steering committee helping connect the Lower Mainland's art aficionados and artists. Tamami and I both reference love, nature and positivity in our work while seeing creativity as a vessel for connection and healing. I curated my artwork to compliment Tamami's music. She sat in front of Between the Light and A Delicate Balance; I speak to regrowth and pay homage to Japanese artist, Yayoi Kusama, through polka dots. Polka dots signify joy and love to Kusama. I designed and printed posters and handouts. Tamami came by one day to pick up posters and stayed to help me hang my A Delicate Balance. I really enjoyed collaborating with Tamami. We both did our best to get the word out in all the ways people do these days.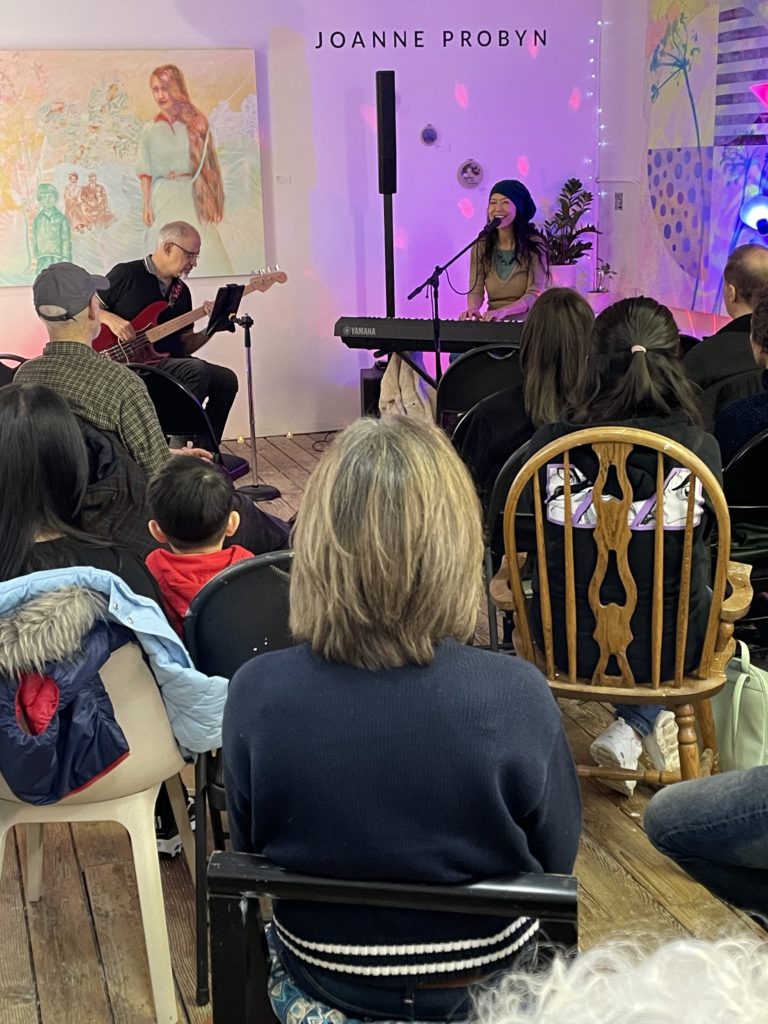 My art studio is located among dozens of others in a warehouse that's about 100 years old. The unremarkable, grey building is shaped like a U; it was once a sewing factory. For the last 30 years it has been an incubator for creativity, filled with painters, ceramicists and photographers to name a few. For a long time, there was a couple who used to sublet from the owners. They rented some of the space to artists. After many years, the couple left in 2020 and the owners built out a new artist's wing on the east side. If you follow the yellow line, it leads you to my studio. This transition point was during the pandemic; it was awkward to say the least (there's a long story). By some good luck and hard work the studios are still here. The original wood floors hold stories in their miscellany between the cracks and in their splashes and dents. And now I've left my mark. One of my favorite relics is the old clawfoot tub. I've brought an old carpet that has more history than I know. It was a given to me secondhand from my sister years ago and lugged it around since; it's a perfect floor covering for a painter. I've grown to love the vintage, industrial, 4-drawer, filing cabinet. Most of my furniture has some kind of history, which makes the room eclectic and comfortable. I spend a lot of time there and enjoy hosting; so, cozy and welcoming is a must.
Tamami Maitland, singer/songwriter/pianist and Ian Wijesinghe, bass guitar, arrived 45 minutes before the show to set up. I hurried to light fake candles and angle spot lights as I had planned out days before. I was delighted the two were so happy with how I was setting the stage, including the disco light. I set the red dots to move at slowly like sunlit leaves floating on gentle stream. These spots traveled across black light that breathed new life into my neon paintings.
Soon guests arrived, taking in their surroundings and finding their way to a spot where they could settle. John Gojevic, a friend through Glen Brauer and Meaningful Discussions, kindly stepped in to emcee the event; he gave a wonderful introduction. The duo kicked off their first 45 minute set promptly at 2:30pm and their show was wonderful! It was a full house with little room left to sit. Tamami's songs illuminated the east wing of Eastside Atelier. She took us on a gentle flight on the wings of love and positivity, lifted by the textures and colors of nature. I kept running to other art studios to borrow more chairs! Following the duo's first set, there was a 15 minute break planned. The musicians talked warmly amongst the guests. Light refreshments were served. Some attendees lingered and stayed for a second set as room allowed. The second show started at 3:38pm. At the end, everyone clapped for an encore and they played one more song. The event ended at 4:40pm. Some people lingered to chat and help while others left to explore the open art studios at Eastside Atelier.
My hope is that this series holds space for soothing the soul and deeply appreciating music and art while celebrating community, culture and collaboration. I also hope to introduce new people to Eastside Atelier and First Saturday.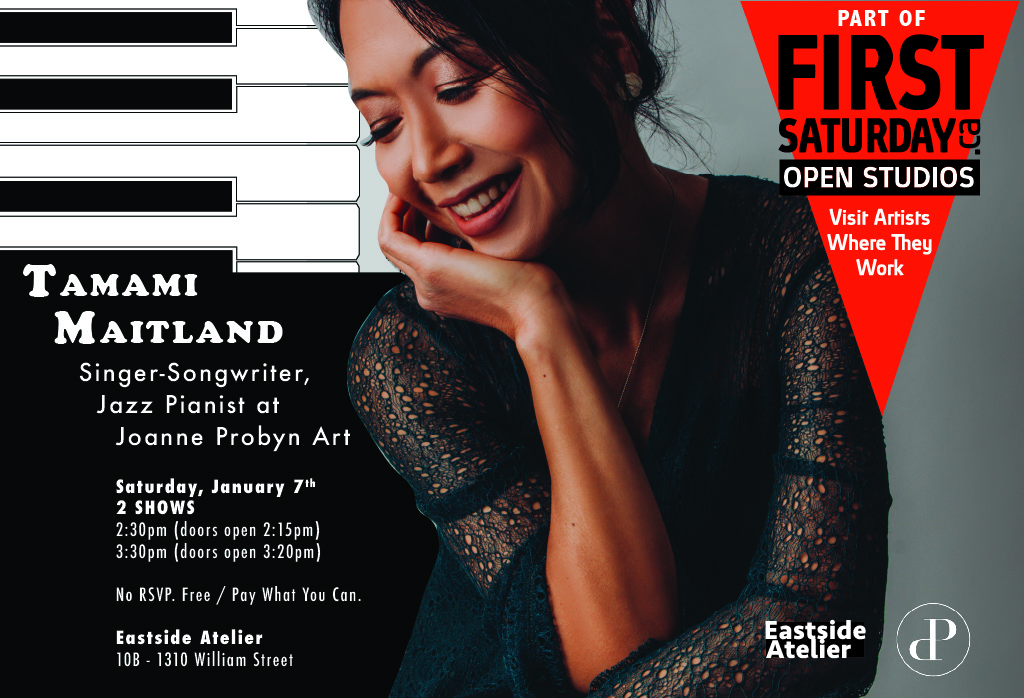 The concerts are inspired by my life in New York. I attended a jazz concert during my two years living in Harlem. One Sunday, I journeyed to the private residence of Marjorie Eliot. I was welcomed into her apartment and invited to sit and enjoy an intimate concert for free. We were served juice boxes and a granola bar. No alcohol. No filming. I sat by a sheer curtain that blue away from window in the summer wind. That moment locked in. I wish I could remember everyone who performed that day; for certain, Marjorie played the piano. She and her son, Rudel Drears have been hosting intimate jazz concerts there over over 20 years. They now attract an audience from around the world. I encourage you to watch this YouTube video about Parlor Entertainment in Harlem. Thanks Ms. Eliot and Mr. Rudel for the experience, for that was the slow-growing seed that would eventually become this project miles away in Vancouver. I would probably not have undertaken this series without the encouragement and guidance of Mike Ferraro, my guitar teacher. Not to mention, all the special friends who have supported this in so many ways from arranging furniture and art, emcee'ing, musician coordination, video production, dishwashing and so much more. Thanks to the artists at Eastside Atelier who supported this event. I'm grateful the help of John Gojevic, Lily Eskandari, Victoria Mitchell, Andres Salaz, Leah Hoeve and Danny for offering volunteer support. Shout out to Glen Brauer for his new friend-connecting platform, buddytree. Last but not least, thanks to the wonderful, attentive audience of about 50 people who attended over two 45 minute shows, including a handful of listeners from the hallway. Guests represented two distinct groups of friends and a handful of entirely new people. The room was bright with well-wishers! Many people said they had never had an experience like this. I found it uplifting, heart-warming and unforgettable! Exactly what I hoped for.
Tamami Maitland hails from Osaka, Japan and has lived in Vancouver for over ten years. She trained at Berklee and Capilano University. Tamami was invited to play for five festival concerts in 2022 and was recently featured in Burnaby Now. Tamami will be travelling to Japan this year, embarking on first-ever Japanese concert tour.
I'm so grateful for all who donated or have collected my art! Your generosity helps me continue bringing inspiring art and music to you. For those of you who hoped to attend her concert but couldn't… you're in luck! Thanks to Danny for putting this great video together showcasing Tamami's concert and First Saturday. Enjoy!
Photos below are captured on January 14, 2019. Images are by and shared with permission from Alessandro Fasce who is based in Genova, Italy. He hopes to come to Vancouver to see one of my concerts one day.
Join us on Saturday, February 4th for the next concert. I'm so thrilled announce Zach Kleisinger will be performing! We are so lucky! I hope to see you there. Learn more.

Marjorie Eliot's Parlor Entertainment Harlem
555 Edgecombe Avenue Suite 3F (Buzzer, #107, New York, NY 10032, United States
3:00pm – 5:30pm Sundays