I'm hosting a new concert and art exhibition in my studio. I've teamed up with Tiny House Concerts for our first collaboration! All the intimacy and magic you love about my concert series is now brought to you by a dedicated team of organizers, talent scouts and professional musicians! We're thrilled to present Monica Lee as our featured performer. I will be exhibiting art with my new studio mate, Lindsay MacMillan. Lindsay and I will be in attendance.
This show will be held during First Saturday, an open event at Eastside Atelier (Vancouver's second largest art collective) and beyond. View the work of multiple artists in the building before the show!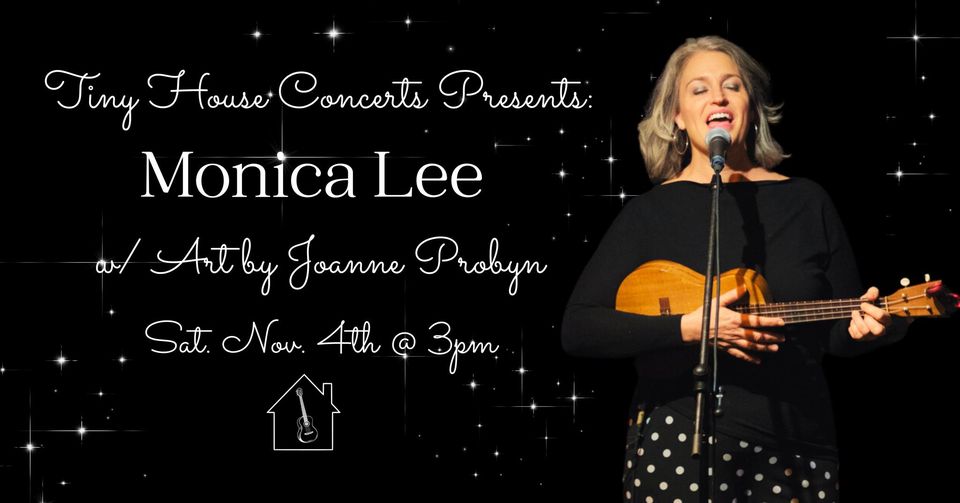 Monica Lee
A Vancouver multidisciplinary artist for more than twenty years, Monica is well known for her powerful songwriting and captivating performances performing in the roots, jazz and country traditions. Monica shares her eclectic style with solo performances, her band of beloved local musicians, her ever-charming Couch Choir, and as a children's performer and music educator.
Monica will be playing songs from Farewell album, reimagined on the ukulele with an upright bass player.
Listen to Monica
Joanne Probyn
Joanne is a contemporary artist best known for her acrylic abstract paintings and hand embroidery. She often explores themes of growth, the human condition and interconnection. Probyn's creative pursuits have been exhibited and published widely including in Fun Size, an art book published by Jen Tough Gallery, New Mexico. View available work.
Tickets
To reserve your seat, send an e-transfer with your donation ($10 – $30 per person suggested) to: [email protected]. Please include how many seats you're reserving in the message/memo. Space is limited and will be first come first serve.
When
Art Viewing & Refreshments: 3:00pm – 3:30pm
Opening Set: 3:30pm – 4:00pm (ish)
Intermission: 4:00pm – 4:14pm
Monica Lee: 4:15pm – 500pm (ish)
Where
Joanne Probyn Art Studio Eastside Atelier Studio 10B – 1310 William St. (2nd floor), Vancouver,
BC Health & Safety
Masks are welcome, but not required. Please stay home if you or anyone in your household is ill or experiencing symptoms. Please note this is an old building with no elevator.