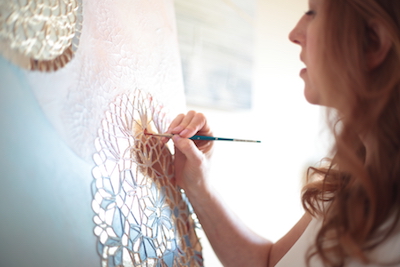 Joanne Probyn is a contemporary abstract painter also known for hand embroidery. Her work communicates with the intimacy of a personal journal and a focus on social issues. Themes of unity and growth continue throughout her new body of work. Growth is tied to renewal, collaboration and optimism. Joanne's move to Eastside Atelier has allowed her to expand the size of her work to meet her vision. Her largest painting to date is a mural study, Let's Grow Together.
This show took over two full-time years to produce spanning 2019 to 2021, with a large part of the production throughout the pandemic. Elements challenge time and space. Fragmentation speaks to parts of a whole, multiple perspectives and inclusivity while encouraging travel across the painting. Joanne also invites the viewer to enjoy the potentials of movement and change with her. Her paintings spin, bend, whirl, soar and dance. Joanne's art is informed by her music and dance practices, as well as relocation and personal change. Her paintings are inspired by expressionists and are designed to evoke an emotional response.
Previously, Joanne incorporated lace in her Sewn Open Series. She creates the fibre work herself in the new Ageless and Evergreen body of work. This connects Joanne with a long line of creative women including her great grandmother who made bobbin lace. Two of these embroidery works are featured in a new art book published by Jen Tough Gallery, New Mexico. Her fibre work is design to create a meditative space for pause and wonder. Nature is both a metaphor and a safe-haven.
Some works are carefully thought out while others are well-developed before she begins. Many works are expressive, intuitive and uplifting. Joanne often works on multiple paintings at once with a strong focus on one. She uses others to ignite curiosity, warm-up or relax. In this way, Joanne may work on more than one series at a time. Sometimes her work may be intertwined with technology such as iPad sketching, slide projection, digital printing and music.
Early in the pandemic, she stopped her current art practice to launch Make Safe Brigade, a volunteer mask-making coalition that hand-sewed and delivered over 500 masks to our most vulnerable and healthcare workers to bridge a PPE gap. During this time, her friend and circus performer, Renee Mak, developed an online life-drawing class to provide employment to BIPOC people and out-of-work performers. Joanne's life drawing sustained her creativity during these early days.
Following Make Safe Brigade, life was lived largely online including her dance, music and poetry practice that began to thrive. Meanwhile, Joanne's women's art collective also moved to monthly meetings online. She is one of several founding members of FLOURISH Art Group. This membership recently reconnected after a year and a half at Joanne's Reimagining Balance exhibition opening reception.