• First Saturday featuring singer/songwriter, Zach Kleisinger, Saturday, February 4th
• First Saturday, Saturday, March 4th

• >>> SCROLL DOWN FOR FULL DETAILS
Ongoing – First Saturday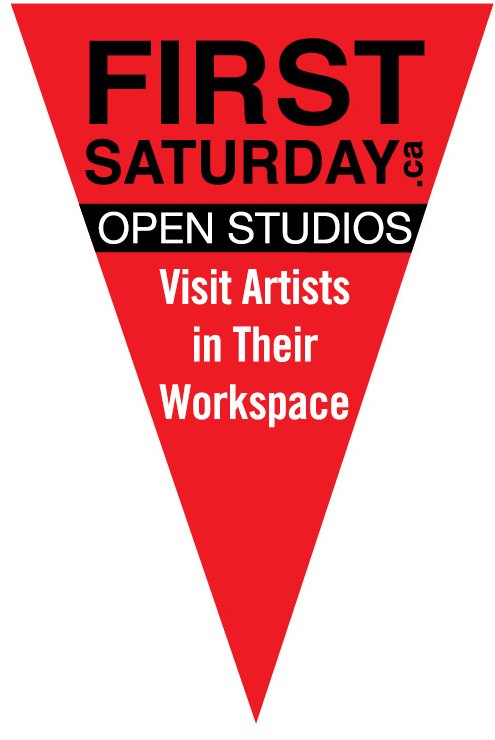 First Saturdays is an open art studios event spanning Vancouver, Richmond and North Vancouver. It's like the Crawl yet happens every month! Guests are invited into artists' studios to see their new creations and discuss the artistic process. Sounds fun, right?! We think so! Stop by. Say hi. Joanne is a frequent participant and steering committee member. Find out who is participating at First Saturdays. Hope to see you there!
Next – First Saturday (February 4)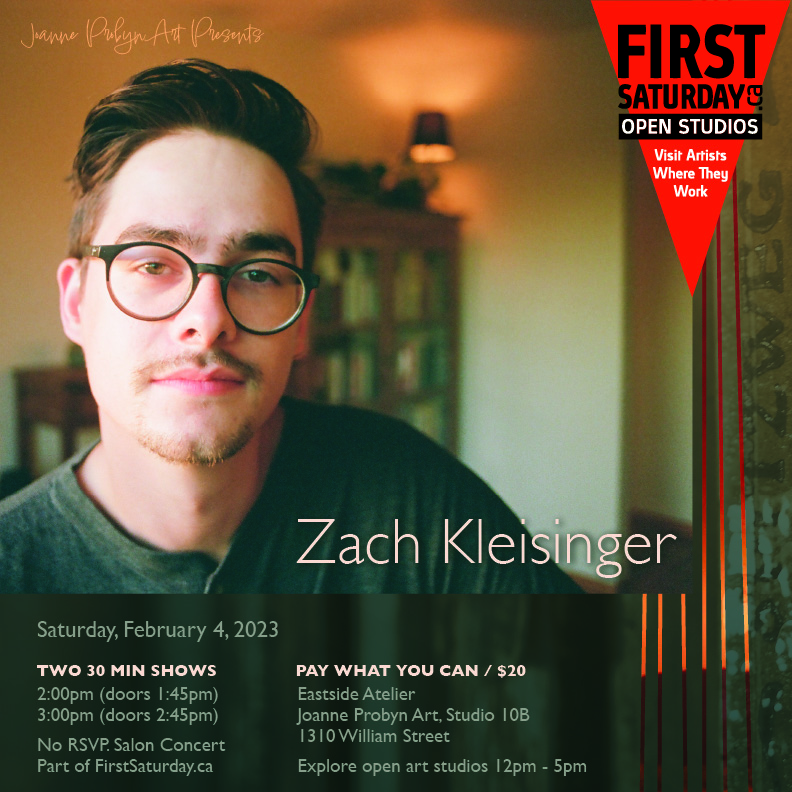 Saturday, February 4th
12-5pm
Featuring live music by Zach Kleinsinger at Eastside Atelier

Two shows
2pm (doors 1:45pm)
3pm (doors 2:45pm)

Come early. First come, first serve.
Eastside Atelier
1310 William Street
Studio 10B, Joanne Probyn Art

---
RECENT EVENTS ARCHIVE
Saturday, January 7th
12-5pm *live music at 2:30pm and 3:30pm; doors 2:15pm and 3:20pm
Eastside Atelier
1310 William Street
Studio 10B Joanne Probyn Art

Go upstairs. Follow the yellow line to my art studio.
Visit www.firstsaturday.ca several days before the event date to view an ever-changing, up-to-date list of participating First Saturday artists.
NEW! January 7th marks the launch of my Salon Series, the addition of music to First Saturday. Hope you can join us!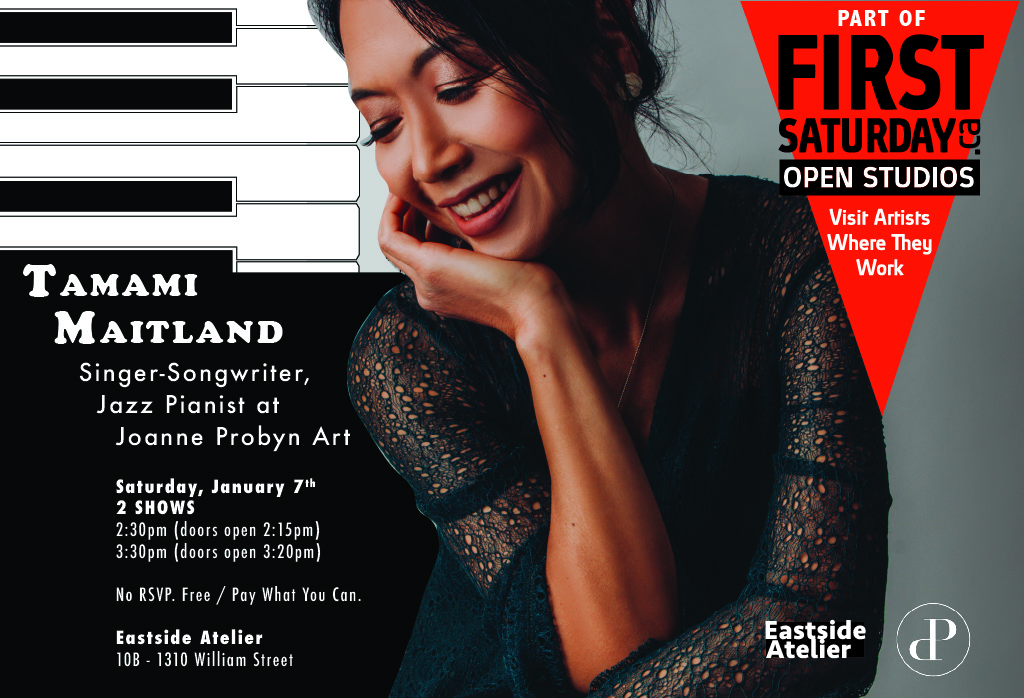 The Gallery George
Showing with 17 other artists including:
@robrobinsonstudio @umbralux.studio @robertdewey @tosowoodgallery @mthwoodworks @richardforbessculpture @collemo.art @alisa.drake_ @aperture_ryan @donnagiraudart @dawne_brandel @madetoflydesign @karlyleipsic.art @milestozen @markbowenfineartvancouver @Janus_Sculpture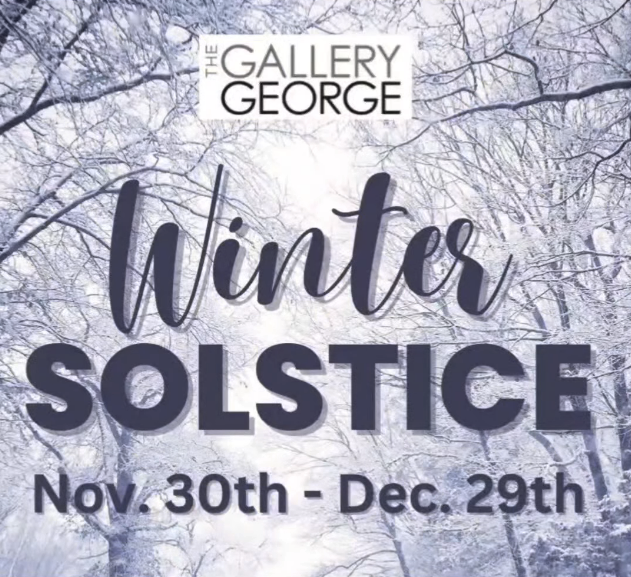 Learn more at The Gallery George
EVENT ARCHIVE – SELECT RECENT EVENTS
NEXT: 2022 Exhibit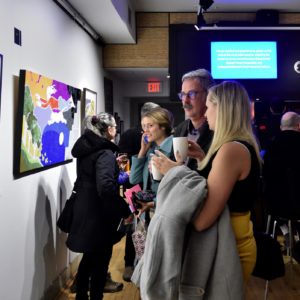 Opening Night Thursday, November 10th, 6-8pm
Runs November 1-27
Gallery Hours:
The Cultch
1895 Venables Street
Mon-Sat: 12-4pm
and 1 hour prior to all performances
Group show juried by selection committee including Paul de Guzman, Eri Ishii, and Hugh Kearney.
Featuring works by: Anne Gaze, Brandy Mars, Cat Mudryk, David Tycho, Deborah Bakos, Elizabeth Barnes, Elizabeth Jensen, Garrett Andrew Chong, Helena Maizlin, Jasmine Wallace, Jessica Craig, Joanne Probyn, John Hall, Jorma Kujala, Kelly Haydon, Lauren Morris, Marisa Myrah, Mat Holmstrom, Rose L Williams, Sonia Mocnik, Steve Williams, Sunny Nestler, Sussanne Hoiberg, Suzy Baker, Thompson Brennan
Pre-Crawl Preview
We heard youuuuuuuu! 🙂 Many of last year's Eastside Culture Crawl attendees said they liked having the event over two weekends. We also liked the extra time with you! So, we've added an exclusive friends and family Pre-Crawl Preview over two days during the weekend before the Eastside Culture Crawl. I would be thrilled to see you there! Optional RSVP details below.
Friday, November 11, 5pm – 9pm
Saturday, November 12, 12pm – 5pm
RSVP via our Eventbrite OR Facebook for more details and optional tickets to keep you informed.
Easy Abstract Painting Demo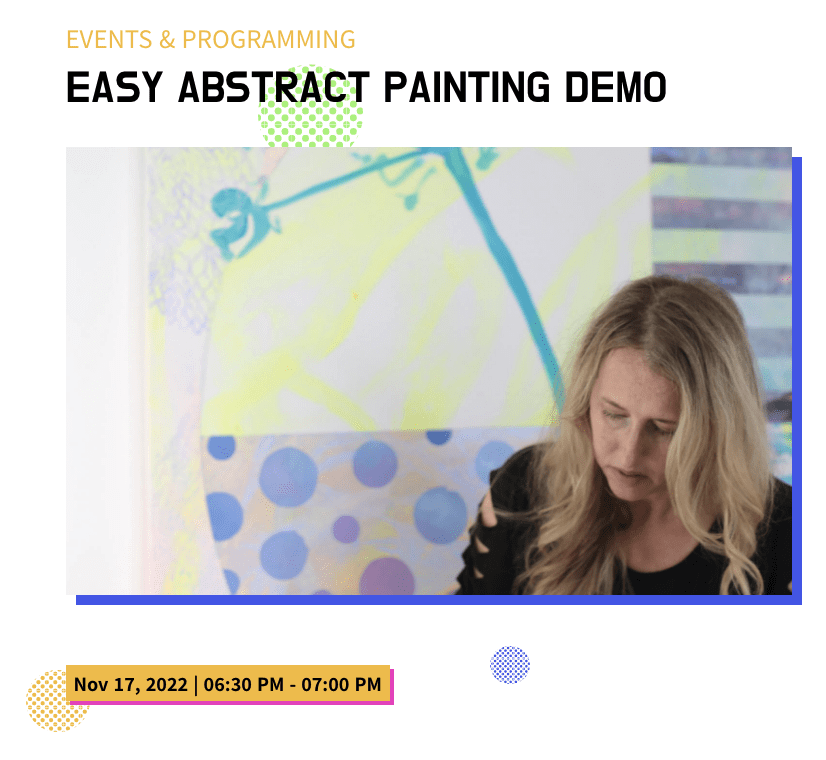 November 17, 2022
6:30pm – 7:00pm
I will be presenting an abstract painting demo to kick off Eastside Culture Crawl perfect all levels to enjoy. Relax and get inspired with fun, easy, abstract painting techniques demonstrated by Joanne Probyn. Discover large brush blending, string, palette knife painting and more! Further details
Eastside Atelier
1310 William Street
My studio, 10B (follow the yellow line)
Eastside Culture Crawl 2022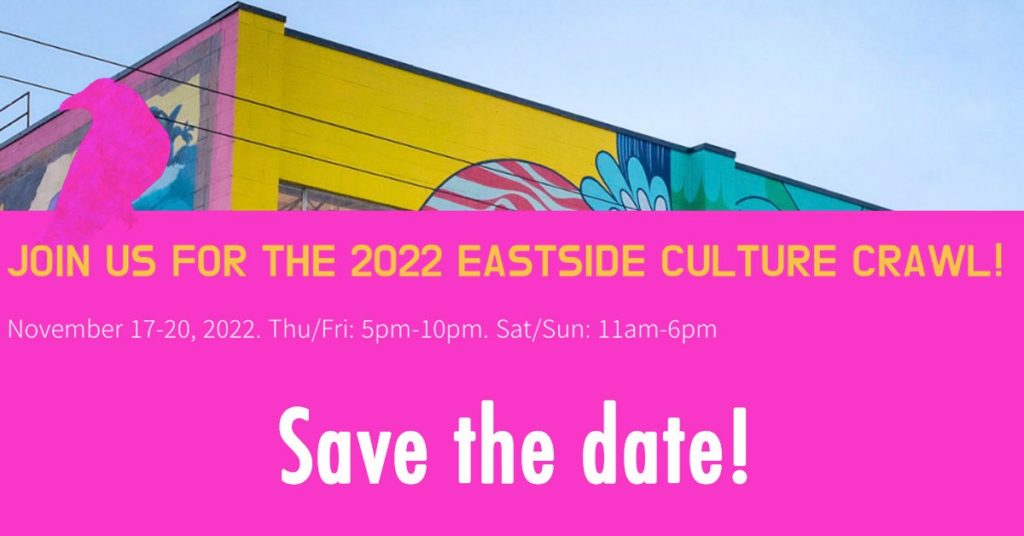 November 17-20, 2022
Thursday/Friday 5-10pm
Saturday/Sun 11-6pm
Eastside Atelier
Studio 10B
1310 William Street
Vancouver, BC
Don't miss a thing! Sign up for my mailing list now and stay informed.
Probyn Art Film Nights – Ongoing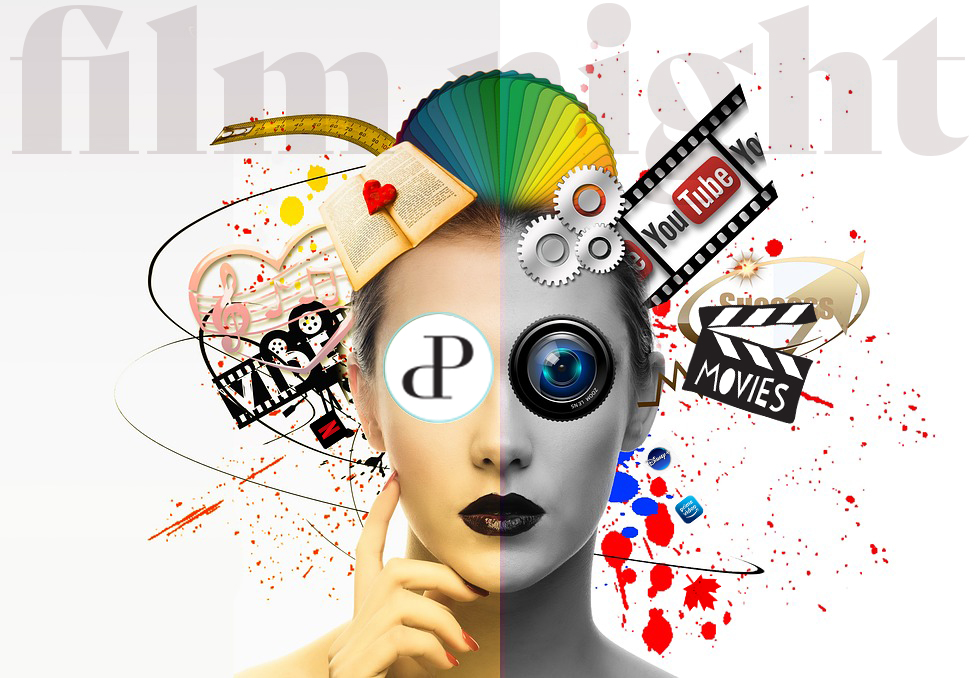 I periodically organize film nights in the studio. If you'd like to join us, shoot me an email me and let me know! I'll ensure you get an invite. Maximum 12 people. No tickets. Guest list. Please .