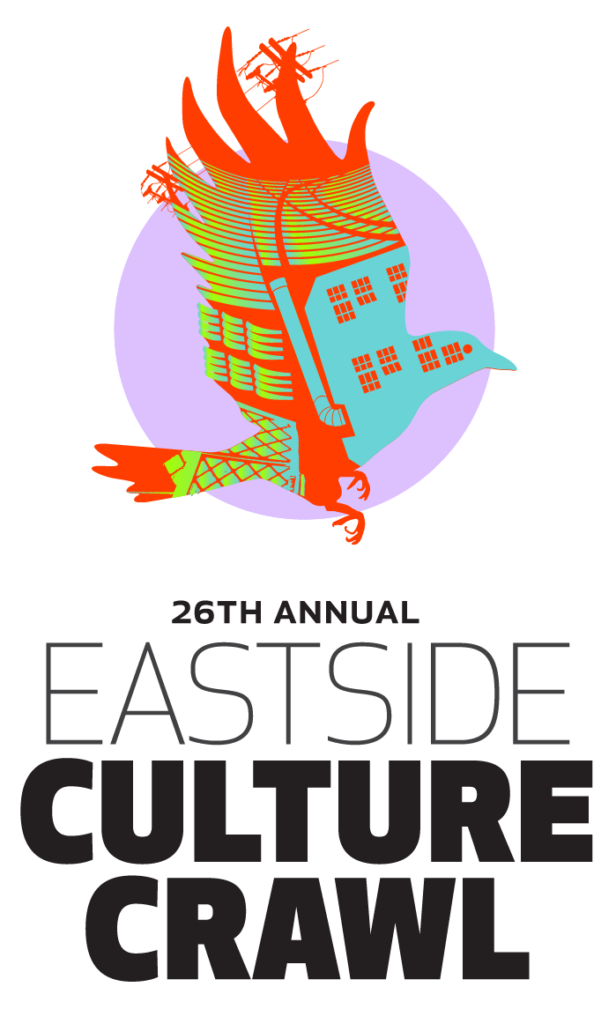 Below is my unofficial Eastside Culture Crawl guide. I hope it will offer some insights on how to get the most out of your art experience! Really, a guide? Yes! Even the seasoned Crawler can feel overwhelmed or finish unaware of the many wonderful ways to engage with the art community that are available. I've participated as an artist and attended several times. Embark on your art journey feeling confident and leaving inspired, enriched and connected to Vancouver's thriving art scene!
Eastside Culture Crawl is BC's second largest art festival known to attract as many as 45,000 visitors over four days.
Crawling is like traveling to a new city. It's all about managing priorities and preferences. Personally, I like a focused plan that allows some time for the unexpected. I think this holds true for having a great Crawl as well.
You do you! It's your Crawl. Whatever you decide you'll have a great time. You really can't lose. Here's some ideas to help you set your course!
Crawling Tips
Make a Plan
You can't see every artist or every building. Don't even try. Some kind of game plan is a must! Here are ideas to consider, from strategic to casual.
a) The Seriously Fun Plan
This plan is for the most ambitious Crawler, someone who does the research, starts early, finishes late. Get started by reviewing the Eastside Culture Crawl Catalogue or online artist profiles. Select your top six artists. Map out the corresponding buildings. Know your top three must-see artists. It's so easy to run out of time with so many talented artists to see and that can easily sidetrack you. Start early on Thursday night to kick-start your tour allowing time to come back later, if desired. Another idea is to get artist intel and socialize at one of several opening receptions. Preview exhibits are typically curated by important Vancouver curators. These shows give you an sampling of who they thought best represents this year's artists out of hundreds of submissions! Attending will give you a taste of our vibrant, art scene while giving you a sense of which creators you might like to learn more about or visit later. Not to mention, attending will give you opportunities to speak with some of the artists. Finally, some art collectives and artists have their own preview events before the Crawl, including the art collective I am in, Eastside Atelier. We are hosting an exclusive friends and family Pre-Crawl Preview weekend. You're invited! Attending a preview will give you more time with the artists to learn about their work and make decisions. You'll also see the best selection of art to simply enjoy or buy.
b) The Building Strategy
Bad weather expected? No time to research? Visit one of the large buildings. Eastside Atelier is the second largest, Vancouver art collective with over 40 artists, many who are in the Eastside Culture Crawl. Other large buildings include Parker, Mergatroid, Arts Factory, Portside and Arc. Some buildings have food trucks nearby! Pick a building. Go have fun. Easy peasy! 🙂
c) The Explorer
If you like to be outside, have already conquered the large buildings, or are an adventurer, The Explorer might be the plan for you! There are so many wonderful artists who work from a home studio or one of the many smaller buildings who would love to share their work with you. Pick one of your favourite artists or a choose random place on the map then meander out from there. I'm a history and architecture buff. So, one of my favorite, walkable Crawl areas is the historical Strathcona region. Consider starting at Paneficio Gallery and Studios. Did you know the Crawl started in this building 26 years ago!? You'll be sure to discover some wonderful artists in surprising places! Pick an Eastside Culture Crawl Building.
Get a Map
Typically, the Crawl produces a pamphlet with a map. In past years, I downloaded PDF map or used their App. At this time, it seems the online map is what's available and possibly printed maps. Not sure. This may change as we get closer to November 17th. In the meantime, check out the buildings/map here. Printed pamphlets are often distributed to libraries, coffee shops and community centres. Of course, you can go right to the source and pick up a map directly Culture Crawl Office Tue/Thurs 10am – 3pm. Where are pamphlets are in your neighbourhood? Drop a line below in the comments!
Discover Supporting Events
The Crawl is so much more than the art studios tours! There are several, multi-venue, preview shows, opening receptions, artist demos, talks, performances and film screenings that may be of interest. Too many to mention! Explore Crawl Events now!
Be a Supporter
Supporting the arts has never been more important. If you're able to contribute financially, there are several ways you can help Eastside Culture Crawl remain a valuable source of art and connection for the creative community. Check out the wildly successful Art Roulette or Silent Auction or Collector's Cocktail Party! Have fun and take home a beautiful work of art for a good cause.
Stay in the Know – Get Reminders!
– Join My Mailing List or the Eastside Atelier Artists Mailing List –or both–for invites and updates
– Follow the Eastside Culture Crawl and Eastside Atelier Artists on Instagram
Look for Crawl Signage
Some buildings will have black, cast iron crows fixed on the side or snazzy A-Frame signs on sidewalks. I love these cute kiddos and can't wait to see them again soon! 🙂 Annnnnnnd, Eastside Atelier is super proud to soon show off our very own A-Frame sign. As a collective, we pooled our limited resources and volunteers made it happen. Go team! Special thanks to Christina Peressini for her beautiful, minimalist design.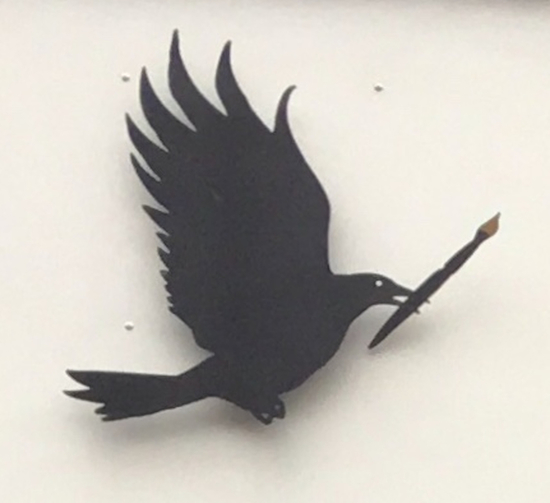 That's all for now, folks! Come back later as I update with more tips later. What's your favourite way to Crawl? Leave your tips in the comments!