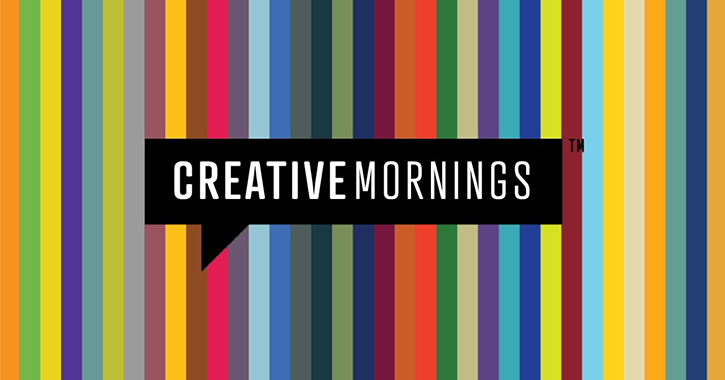 Firstly, I'm a huge fan of Creative Mornings Vancouver (CMV), produced and hosted by Mark Busse. This exciting monthly, morning talk at SFU Woodwards is a great place to reconnect with long-time chums and make new friends. The free event is open to the public. The events often sell out. So, if you see a speaker you like, don't wait to get a ticket!
CMV is generously sponsored, enabling them to offer top-notch events featuring a great musical act, fun swag and a delicious complimentary breakfast! Programming includes engaging opportunities to converse among small groups. During the pandemic, CMV pivoted online leading the way in terms of reliable, technically savvy, engaging talks that continued to nourish creativity and community. Talks are now online and in-person and remain well-curated, interesting and engaging.
I'm also passionate about creativity and community. I'm lucky to have been invited to join First Saturdays board and have been volunteering since early 2022. First Saturdays is like the Eastside Culture Crawl yet happens monthly on each first Saturday. The general public is invited to visit artists in their workspaces, learn about the artistic process as well as view and buy art. A friend, poet, and one of CMS's many volunteers, Christine Bissonette, suggested I offer to do a First Saturday 30 Second Pitch for CMV. I was invited!
My mini-presentations went well and improved over time. While I've been fortunate to have many opportunities for public speaking, it doesn't come naturally. Some say they wouldn't know this about me, which is why I like to tell you! Ha ha! I believe communication is a valuable skill for everyone, especially artists. My passion for communications led me to become the past vice president of the Canadian Public Relations Society Vancouver. These days, I've discovered that I learn more about my art practice the more I discuss my work to others.
I saw an alignment for continued collaboration with these two groups, offering other artists an opportunity to develop their skills while getting the word out about First Saturday. We are so grateful for all CMV has done supporting a strong, creative community in Vancouver, especially over these past few years. During the pandemic, many people experienced isolation and creative professionals, especially those who share their art or performances publicly, found limited opportunities. Hats off to CMV for keeping the creative pilot light on!
After a few mini-presentations, I began encouraging other First Saturday artists to speak. Since then, artists including Victoria Mitchell, Christina Peressini and Jessica Craig have all volunteered to present. First Saturdays is now a regular 30 Second Pitch presenter, now in its ninth month. Watch a segment of Christina Peressini's pitch.
If you are a First Saturday artist and would like to be considered for a 30 Second Pitch at CMV, email me with your artist package such as a few images of your work, links, if available, and a short bio with "Creative Mornings 30 Second Pitch Artist" in the subject line.
Lastly, CMV is looking for volunteers! If you'd like to be considered for a dedicated, ongoing, position volunteering with this high profile, fun team, email Mark at Creative Mornings Vancouver.
Last updated 2022.10.25