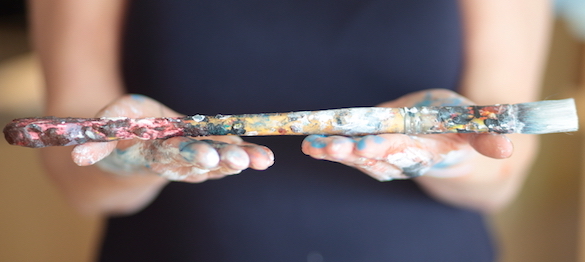 Joanne Probyn Art Studio
Eastside Atelier
10B – 1310 William Street
Vancouver, BC, Canada 
V5L 3K7
Studio visits are welcome by appointment. To enquire about available art, commissions or collaborations contact Joanne today.
info@probynart.com
778-848-6115
Joanne creates from her studio in Vancouver, Canada. East Vancouver is a creative area with many artists. It's home to one of BC's largest arts festivals, Eastside Culture Crawl, typically attracting over 45,000 people annually.
Joanne's studio building, Eastside Atelier, has a rich history and is home to over 45 artists. Many years ago, it operated as a sewing factory. Previously known as William Clark Studios, it has housed many artists over the last 30 years. In 2020, it was rebranded as Eastside Atelier. Nearby, discover Creme de la Crumb catering and bake shop, Espressotec espresso equipment and sample bar, dozens of funky breweries, and some of Vancouver's best restaurants in the heart of East Van, Commercial Drive. Her studio is 7 minutes from the city by car and a short bike ride along a historic route.