I'm thrilled to announce new 3D studio tours! This is perfect for anyone who wants a second look at my studio or who would love to visit but can't for whatever reason. Tags indicate a work's availability and can include links or additional information. I will try to update my tags periodically but to be honest, I doubt I'll do this regularly. It's always best to send me a quick email to make an inquiry.
Annnnnnd, I'm also helping out a few of artist friends. These artists are in our collective, Eastside Atelier. In case you haven't heard, a collective of over 45 artists based in Vancouver, Canada. We are located at 1310 William Street. Visits are always welcome!! However, it's by appointment. Here's a unique way to visit with no appointment.
Below are three tours I created. It's early stages. So, this means the tours may be lacking some information. If you have any questions about the Victoria or Dalyn, please email them directly. They would be happy to connect.
Check back regularly to see more artists! I will continue to post more tours here. Have fun!
Joanne Probyn – Eastside Atelier, Studio 10B
Joanne's available work (Email me if you see something you like and don't see it listed on my portfolio site).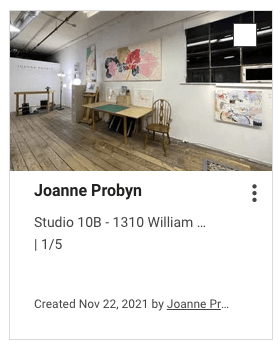 Dalyn Berryman – Eastside Atelier, Studio 12
Dalyn's Website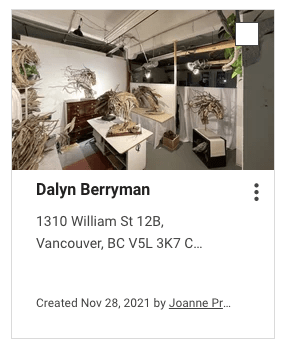 Victoria Mitchell – Eastside Atelier, Studio 6
Victoria's website